Love Sonnets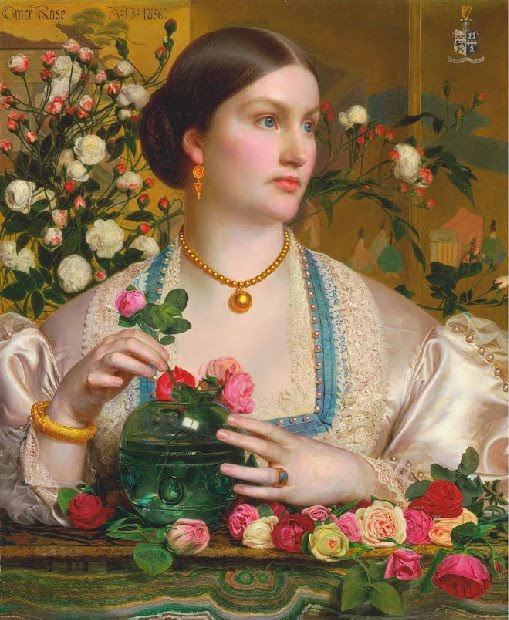 Frederick Sandys, Grace Rose (1866), courtesy Yale Center for British Art
33 Selections from
Sonnets from the Portuguese
and Other Sources
Love Sonnets is a poetry reading scheduled as part of National Poetry Month for the first Thursday of April. A selection of 33 sonnets, primarily drawn from Elizabeth Barrett Browning's Sonnets from the Portuguese, will be read by Paul A. Clayton. (This activity is not sponsored by, associated with, or endorsed by Montgomery County Public Schools or Montgomery County Government, being merely an offering to the public by the reader.)
Light refreshments will be available, and the first ten attendees will receive a copy of Sonnets from the Portuguese: A Celebration of Love. (Three additional copies will be awarded by drawing.)
Motivation
This program was initially conceived to promote Sonnets from the Portuguese and was to be a reading of selections only from that sonnet sequence (the giving away of several copies was part of that initial conception). A desire to place E.B.B.'s sonnets in a broader context and to leave more of that sequence for the audience members' individual discovery, along with a delaying of the reading from Valentine's Day to provide more preparation time and avoid competition with other, more romantic activities on that day — these led to a broader inclusion of romantic poetry and a choice of April.
A significant but secondary consideration was to encourage the use of and a positive perspective toward the Silver Spring Library (where I currently work as a page) by providing a program of some interest to some people. The rescheduling to April allows this program to boost interest in the library's other special emphases on poetry for National Poetry Month.
An additional motivation was the pleasure of doing a dramatic reading, particularly given texts that are well-suited to dramatic reading and for which I generally have some fondness.
The 33 Sonnets
The following works will be read:
From Amoretti by Edmund Spenser (1552 - 1599): Sonnets 15, 75, and 79
from William Shakespeare (1564 - 1616): Sonnets 18, 87, 97, 116, and 130
from John Milton (1608 - 1674), "On His Deceased Wife"
from Sonnets from the Portuguese by Elizabeth Barrett Browning (1806 - 1861): Sonnets 3, 6, 8, 9, 10, 12, 13, 14, 16, 20, 21, 25, 27, 28, 29, 30, 35, 37, 38, 39, and 43
from Emma Lazarus (1849 - 1887), "Assurance"
from Sara Teasdale (1884 - 1933), "To L.R.E."
and from Edna St. Vincent Millay (1892 - 1950), "Love Is Not All".
The complete text (along with some comments) is also available.
Refreshments
The menu for this event has not yet been determined. The available foods may include: croissants and scones from Panera, a few varieties of cheese, crackers, chocolate, and Wallace Presbyterian Church's special trail mix.
Drinks may include: tea (Earl Grey, Mint Medley, and Constant Comment), hot chocolate, pink lemonade, and water.